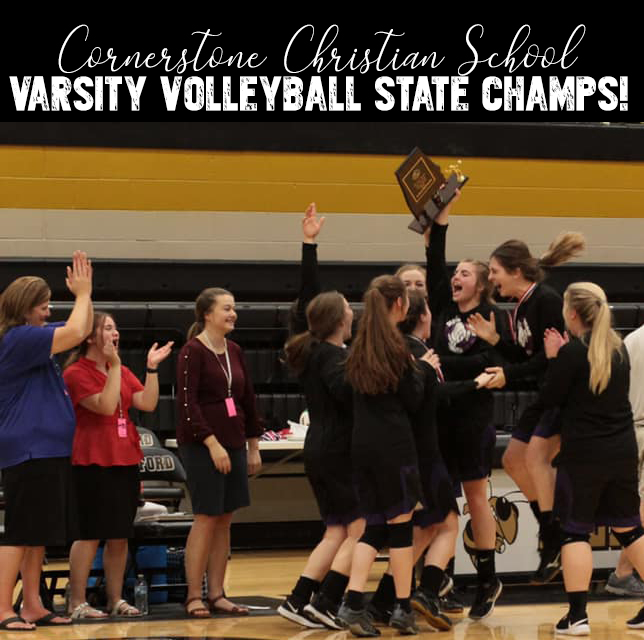 Making CCS HISTORY with our FIRST EVER Varsity Volleyball State Championship WIN!!!
Our girls fought hard and ended their amazing season as the 2021 ACAA 2A (large school division) Volleyball State Champs! Their theme this year was "Leave Nothing!", and they certainly held to that theme to the very end!
This is the first Varsity Volleyball State Championship in the history of our school! This team ASKED to be moved to the "large school" 2A division this year, to give them tougher competition. Our small school looked wimpy compared to the many large schools they competed against, but what they lacked in number, they made up for in spirit!
They made it to the "Final Four" state tournament (double elimination) this past weekend, where they faced off and beat Tuscaloosa Christian and Cornerstone Christian-Rainsville on Friday, which put them in the championship winner's bracket for Saturday, where they were set to meet Cornerstone Christian-Rainsville, again, for the championship. The first championship game was lost by our Lady Cougars in the 5th set. Since we were undefeated in the final four games until the championship, we had to play an additional game against Cornerstone-Rainsville, where we won in 3 sets, giving us the STATE TITLE!
They finished their season winning 92-7 sets and 34-1 matches, with 4 tournament wins….including the BIG ONE! It's been an AMAZING season with an AMAZING coach and AMAZING group of girls! We are SO proud of ALL of you!!!
Our Varsity State Champs:
COACH: JOY LEWIS
ASSISTANT COACH: WHITNEY RASMUSSEN
Lauren Chesser – Freshman – #18
Katie Barton – Sophomore – All-Tournament – #12
Shelby Jenkins – Junior – All-Tournament – #31
Katelyn Murray – Junior – #6
Sarah Nason – Junior – #1
Karlei Pence – Junior – #47
Autumn Lewis – Senior – Tournament MVP – #24
Maggie Tinkle – Senior – #10