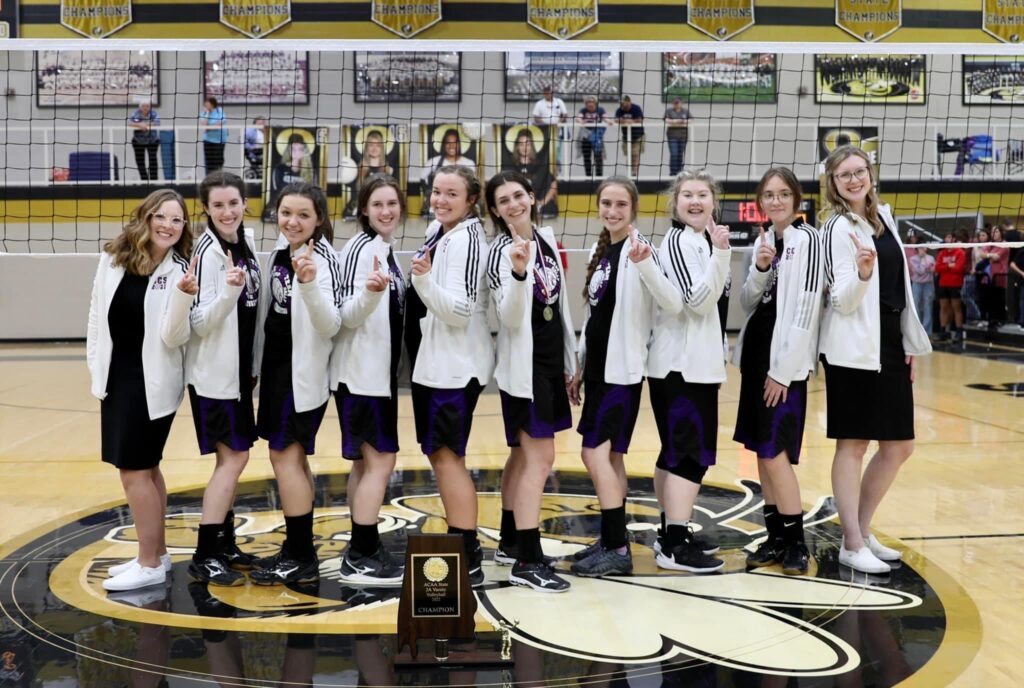 This year's Varsity Volleyball team includes:  Hannah Reber (8th grade), Lauren Chesser (sophomore), Nyla Arnold (junior), Katie Barton (junior), Sarah Nason (senior), Shelby Jenkins (senior), Katelyn Murray (senior), and Karlei Pence (senior).  They were coached by Miss Te'a Koch (coach) and Kylie Hendrix (assistant coach).
For the 2nd year in a row (last year was the first varsity volleyball championship in our school's history!), our Lady Cougars beat Cornerstone Christian Academy – Rainsville in the championship game last Saturday in only 3 sets, securing our 2nd Varsity volleyball state championship!
All-tournament honors were given to Shelby Jenkins and Karlei Pence. MVP of the state tournament was given to Sarah Nason. In the final championship game, Karlei Pence had 13 kills, Katie Barton had 19 assists, and Sarah had 5 aces and 10 digs.
Our school is officially a small division school (D1 – with less than 60 students currently in K-12 grades), but we played in the large school division (D2) for volleyball the last two years, winning back to back state championships both years (against the same team Cornerstone-Rainsville for both final championships).
We are SO proud of our Lady Cougars and how hard they fought this season to keep their history-making STATE CHAMPIONSHIP title!